In 2014, the Community First! Village outside East Austin paved a new future for hundreds of individuals who formerly lacked housing by building 230 affordable micro-homes and RVs on a 27-acre planned campus with a vast network of social services. The development, which is run by Texas nonprofit Mobile Loaves & Fishes, set out to expand on this achievement in 2018 with an adjacent campus that is in the midst of adding 310 new micro-homes to the village.
As part of Phase Two of the development, the Tiny Victories 2.0 competition brought on five teams of local architects and contractors to design functional homes for village residents that will be replicated up to five times within the development. For their concept, award-winning firm Chioco Design collaborated closely with Sheila, a community resident who lost her house after a devastating divorce and debilitating illness, to better understand the unique needs of someone who has experienced chronic homelessness. Prior to any design work, each of the teams also spent a night at the Community First! Village.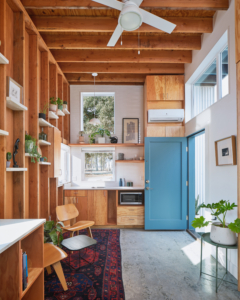 The architects learned that because Community First! Village members use communal kitchens and restrooms, privacy is a key component for Sheila and many other residents. At the same time, the client's extroverted personality meant that she also wanted a dedicated space to host people in her new home. The team's solution was a design that carefully balances private and shared gathering areas within 200 square feet, which was the maximum interior living space on the original brief. "We created separate living and sleeping areas by offsetting the plan elements in hopes of fostering a greater sense of privacy with multiple rooms," says Jamie Chioco, the firm's founding principal.
Sheila also emphasized to the architects the importance of a living space that fosters her creativity and moments of introspection. She wanted to be surrounded by possessions that held memories of her current and past selves, from family photos and gifts collected over the years, to pieces of art and jewelry she has made while living in the Community First! Village.
An exposed framing wall—the home's largest partition—functions as display shelving for Sheila's various mementos. Upon entering, visitors get an immediate sense of the resident's personality as they are greeted by shelves filled with art and collected objects. "We placed her writing desk amongst the display wall, and therefore amongst the objects that inspire her," says Chioco. "Sheila wanted a space where she can write and work on different art projects. It's one of our favorite aspects of the home."